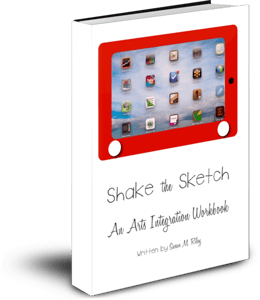 $

21.95
We can Shake the Sketch in education. Wipe the slate clean and take a good look at the wonderful possibilities that strategies like Arts Integration can afford to our students.
Throughout this workbook, you'll learn what Arts Integration is, how it's revolutionizing education and how to successfully implement it in your classroom, school or district using a proven process. We'll explore the research behind Arts Integration, how to make your vision of student success a reality, and how to help your whole school community become invested in each student's potential. Everything from writing lesson plans to providing professional development is covered, including sample lesson plans, templates and access to many supplemental media materials.
Engaging in the Arts, making critical connections beyond the classroom and providing our students with the valuable understanding of processes will shake their world - and ours - forever.